DEDICATION

.


ATHLETES.
VALOR

.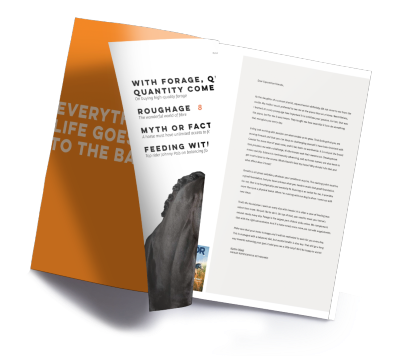 In this sixth issue of Valor we'll be discussing fibres. Inspiring stories of the wonderful world of fibre and the balance between forage and concentrates. Read all about it in this issue of Valor.
Valor: thé magazine from Cavalor!
A magazine with body. A source of inspiration. Read Valor whenever and wherever you like: at the stable, at home, on the go or at the show. In Valor, we bring you stories from the equestrian community and we will share scientific insights on nutrition, supplements and care. 
Register here to get Valor sent directly to your mailbox at no charge, three times a year.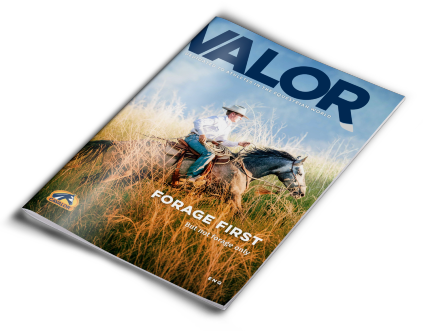 Prefer to read Valor in the print version? Then pick up a copy at your Cavalor retailer.
My horse spends the winter in the barn, but as soon as the weather is better he's turned out all day. He's prone to colic. How can I help my horse make the transition from barn to pasture?
Good forage is fundamental for horses. It's filling, it provides the body with needed amounts of vitamins and minerals, and it helps to prevent boredom.
I know my horses well, so I'll see right away if there's something wrong. It might be tiny signs: anything out of the ordinary can be a sign that a horse doesn't feel well.
Good equine health begins with a well-functioning gastrointestinal tract. For healthy digestion, a horse needs a daily intake of fibre. But what does fibre actually do? What is the relationship between fibre and the microbiome? And does every horse get enough fibre?
A horse needs to be able to eat unlimited amounts of forage. What do you think? Truth or myth. Read the answer in this issue of Valor.
For many years, the importance of forage and the fibre it contains has been emphasized. Forage is the foundation of every feed ration. In practice, it's important to have a skilled eye. Horse owners use experience and knowledge to keep their horses in good condition. In addition, science yields new findings every day. What can we learn from this?
Published 3 times annually
In 4 languages
Also available from Cavalor retailers
And you can read it online anytime, anywhere!